Congratulations, and welcome to pregnancy. Pregnancy is a time to take extra good care of yourself. In this section, you will find tips on how to make your pregnancy healthy and enjoyable.
Eating healthy foods is more important than ever!
The foods you eat are the main source of nutrients for your growing baby. Your diet should include lots of fruits and vegetables. Make sure at least half of your grains you eat are whole grains – try oatmeal, whole-grain bread and pasta, and brown rice. Vary your protein choices by choosing lean meats and poultry, eggs, beans, and peas, soy products, and unsalted nuts and seeds. Choose low fat or fat-free milk, yogurt, and cheeses. Experts also recommend that you should eat between 8-12 oz of low-mercury fish every week. Fish like salmon, tilapia, and canned tuna all contain omega-3 fatty acids that have been shown to prevent early (preterm) labor and delivery, lower the risk of preeclampsia, and may increase the birth weight of you baby. Visit the FDA's Advice About Eating Fish for more information and help to choose which fish to eat, and how often to eat them, based on their mercury levels
During pregnancy, your body is working to provide both you and your baby with all the vitamins you both need to stay healthy and strong. That is why it is essential to start or continue taking a prenatal vitamin. Talk to your health care provider about which prenatal vitamin is best for you and your needs. Generally, look for a prenatal vitamin that contains folic acid, iron, calcium, vitamin A, vitamin D, and Vitamin B12. These vitamins play an important role in bone, vision, and brain development.
ChooseMyPlate for Moms/Moms-To-Be resource has more information about nutrition during pregnancy. 
But, don't start "eating for two."
The amount of calories you need during pregnancy depends on your weight gain goals. You will and should gain weight during pregnancy. Gaining too much weight could make your pregnancy more uncomfortable, but it also increases your risk for preterm labor, gestational diabetes, high blood pressure, and, for some women, C-section complications. However, you also do not want to diet during pregnancy. Not gaining enough weight during pregnancy increases your risk of giving birth too early (prematurely) or delivering a small baby.
Healthy pregnancy weight gain depends on your body mass index (BMI) before you became pregnant. Recommendations are:
If your BMI is less than 18.5 before pregnancy, you should gain between 28-40 pounds

If your BMI is between 18.5 -24.9 before pregnancy, you should gain between 25-30 pounds

If your BMI is between 25.0 – 29.9 before pregnancy, you should gain between 15-25 pounds

If your BMI is 30.0 and above before pregnancy, you should gain between 11-20 pounds.
Visit the Baby Your Baby website to learn more about pregnancy weight gain and to calculate your BMI.  
Talk to your health care provider if you have questions about how much weight you should gain during pregnancy.
Regular exercise goes hand in hand with eating right to maintain your physical and mental health during pregnancy.
You may have heard that putting your feet up and relaxing during pregnancy is the best thing for you and baby, but if your pregnancy is uncomplicated, it is much healthier for both of you to stay active during your pregnancy.
If you regularly exercised before pregnancy, you can continue that level of exercise throughout your pregnancy, but listen to your body and slow down when you feel uncomfortable. As long as your health does not change and your health care provider gives their okay, it is recommended that you get at least 2 hours and 30 minutes of moderate-intensity aerobic activity, like walking or swimming, per week. Benefits of regular exercise during pregnancy include:
Easing and preventing aches and pains of pregnancy, including constipation, varicose veins, backaches, and exhaustion

Being better prepared for labor and delivery and recovering more quickly

Lowers the risk of preeclampsia and gestational diabetes during pregnancy

Having an easier time getting back to a healthy weight after delivery

Improves sleep

Protects your emotional health
The March of Dimes has more information about exercising during pregnancy. Read it here.
Vaccines keep both you and your baby healthy.
During pregnancy, your baby receives disease immunity (protection) from you. This protection comes from the many antibodies that you are always making and sharing with your baby. The vaccines you get during pregnancy boost your antibodies and protection against serious diseases.  
The Centers for Disease Control and Prevention recommend two vaccines during pregnancy: the flu shot and Tdap vaccine.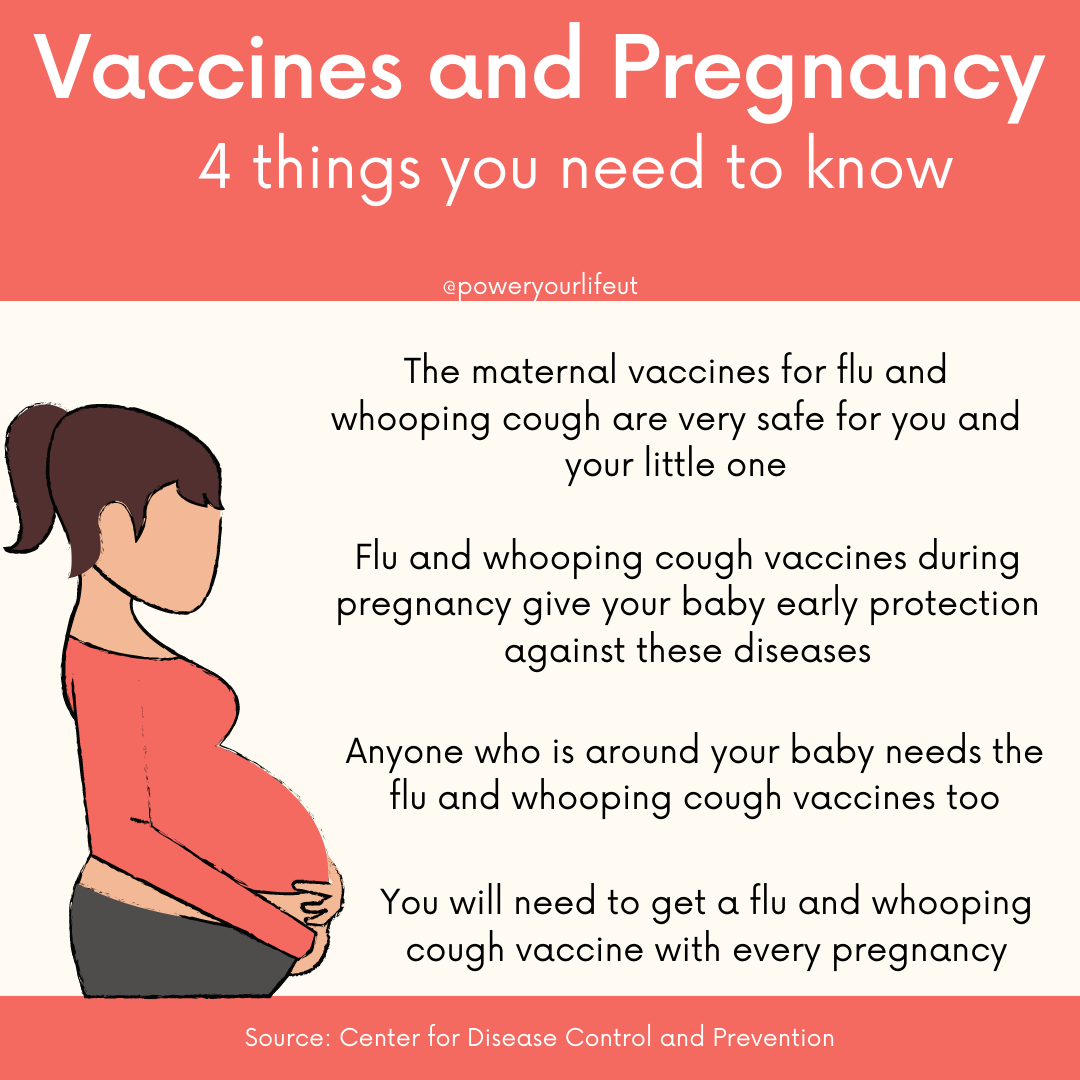 You will need a Tdap vaccine during the 27-36th week of pregnancy and protects your infant against the potentially life-threatening disease whooping cough. About half of babies younger than 1-year-old who get whooping cough need treatment in a hospital. It is crucial for anyone that will come into contact with a newborn, such as siblings, both parents, grandparents, and other caretakers, get vaccinated. Many times, they do not know they have the disease and can infect a baby.
Pregnancy changes your immune, heart, and lung functions, making you more likely to get seriously ill from the flu. You also have a higher risk of pregnancy complications such as preterm labor and preterm birth if you catch the flu. Children under the age of 2 are more likely to end up in the hospital from the flu. Get a flu shot by the end of October, so you are fully protected when flu season starts.
Talk to your health care provider about these vaccines. For more information, visit CDC's Vaccines and Pregnancy: Top 7 Things You Need to Know.
Looking after your mental health is just as important as looking after your physical health.
Finding out that you are pregnant can be a bit of a roller coaster – you will feel joy, happiness, excitement – and stress, frustration, confusion, and anxiety. It is important to protect your mental health throughout your pregnancy journey.
Changing emotions during pregnancy is, for many women, one of the most common side effects during pregnancy. You must not feel guilty or ashamed if your feelings are all over the place. Pregnancy emotions are expected and a normal part of development.
Make yourself a priority by taking the time to protect your mental health during pregnancy. Look after emotions by:
Listening to your body and mind and be aware of what you need. Make time for you. Keep practicing your favorite self-care activities and doing those things that bring you joy.

Talk it out. Pregnancy is a time of major change – your body, your relationship, your career, and your finances. It is entirely natural to feel anxious. Talking about your feelings and worries with someone you trust can help to ease your mind.

Eat well. Remember that food is fuel for you and your baby, so choose healthy foods and drinks.

Stay active. A walk in the park or a prenatal yoga class can do wonders to lift your spirits and make you feel better. Exercise lifts your moods and releases endorphins that are good for you and your baby.

Start a gratitude journal. Writing one or two things you are grateful for can shift your focus to a more positive mindset and can help reduces stress and quiet negative self-talk.

Understand the birth process. Understanding what is happening to your body and what you should expect during labor is an important step to reduce any anxious thoughts you may have about labor and delivery.

Ask yourself the golden question. Is what I am doing making me feel more excited or more anxious about my pregnancy and birth? If what you are listening, reading, or watching is making you feel worse – turn it off. Get information from trusted sources like this page, the ones listed below, or talking to your doctor.
Let your health care provider know if you are feeling so overwhelmed that you cannot cope, or if you are experiencing depression or anxiety. To find a provider in your area that can help visit the Maternal Mental Health Referral Network.  If you are having thoughts of hurting yourself or of suicide, contact 911 immediately.